The new German Government is a coalition of three Parties  SPD, Greens and FDP have agreed on the first "traffic light" coalition at the federal level. This Government will take Germany further ahead in the post-Angela Merkel era. Having as their motto "Dare more progress" seems quite promising and remarkably progressive. The leader in the coalition will be Germany's oldest Party, the centre-left Social Democratic Party of Germany (SPD).
Among others, in their program, it is envisioned first and foremost, battling the Covid-19 pandemic, where tougher restrictions are being placed, including a boost in healthcare salaries and staffing levels, and mobile vaccination teams and offer COVID vaccinations in pharmacies. Their program also includes a strong climate policy, facilitating migration by making naturalisation easier, moving forward with digitalisation and dismantling bureaucracy. There will also be a  €3 boost in welfare and unemployment while keeping the pension contribution frozen at 20%.
Annalena Baerbock: The first German female Foreign Minister
Annalena Baerbock has been appointed in one of Germany's most important Ministries. The newly appointed Minister being the Green party's co-leader will be bringing many firsts. Apart from being the first woman to hold this position, she is also the youngest. Her goals are to shape a values-based and feminist foreign policy. Following the nomination, she was interviewed regarding her goals. She underlined the importance of establishing a valued-guided foreign policy with a clear focus on human rights and making her first priority a strong climate policy.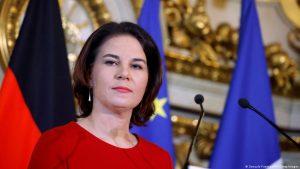 It was well anticipated that the new Minister would be focusing on those matters. She also sent a clear warning, or at least that was how it was received, to Hungary, China, Belarus and Russia, as far as human rights are concerned. "For far too long, the German government has been silent on the dismantling of basic rights in Hungary," she told the news agency AFP in June.
Her nomination has been received with mixed feelings. Twitter has heavily critiqued her as too young, she was born in 1980, and too inexperienced. However, Gustav Gressel of the Berlin-based European Council on Foreign Relations (ECFR), speaking to DW, has welcomed her nomination deeming it essential and bringing a different tone to the EU and to German politics as well. He reportedly said, " I think much of this criticism as misguided because that's simply not how electoral democracy works," he proceeds by adding  "Ministers are not technocrats. They need to find and identify the people they can rely on in specific areas to work for them and with them. Anyone who has risen that far in politics has to have a certain amount of toughness". As far as the age critique, he seems much more confident on the new generations' points of view and efforts than the older generations.